Bildnachweis: Andrey Popov – stock.adobe.com.
Recently, it struck me that in the ­current political and financial ­turmoil, it is still quite rare to see companies adopt a clear stance towards a controversial subject. Covid-19, war in ­Ukraine, energy and drug prices – there is no shortage of controversial and challeng­ing topics today. Still, business leaders try to stick to pure business topics and leave "politics to the politicians".
Admittedly, things are complicated when it comes to transferring one's values and beliefs – or in other words: ethical standards – to form guidelines in a more general business environment. That is mainly because values and beliefs are very per­sonal and vary widely, depending on ­cultural and socio-economic socialisation.
Business ethics do exist of course in our professional environment. We have accepted rules for good corporate governance, compliance, and integrity. In addition to professional ethical standards for good corporate governance, there are concepts of thematic investing which are aligned to a certain cause or purpose, e.g. – therapeutics, medtech, digital health, etc. There are also concepts of negative screening – to avoid being connected to certain industries: no investments in weapons, or tobacco, or oil, or blood diamonds, you name it.
However, it occurs to me that we do not discuss certain difficult situations and how to handle them in our business ­environments enough – and this might ­affect what is called a business' social ­license to operate.
The Greek invented the term "dilemma" – and you are probably already sensing what I am trying to point to now. Picture the following: you are raising a new ­venture capital fund to accelerate inno­vation in development of therapeutics in various areas, let's say with a focus on rare diseases. You want to make sure that innovation and access to therapy is accelerated with the help of your venture fund – you are one of the good guys and if you even succeed in making money with your efforts, well done. Now, one of the invest­ors who wants to contribute 50 million US dollars to your fund turns out to be a close relative and beneficiary of an authorita­rian regime leader known to brutally ­suppress people in his country. Let's assume, for the sake of argument, this person is not on any OFAC sanction list.
Will you accept the investment, since you are using it to do good – which to your point of view outweighs everything else? And in consequence, since you are a good VC investor, you will make venture-like ­returns and your expertise, as well as your fiduciary responsibility will make all your investors happy, including this one investor? Will you argue that it is your most noble responsibility to make good ­investments decisions, help new trans­formative medicines come to markets and help patients, and not to save the world? Or will you decline to take the money, and possibly not be able to support and ­finance better treatments to come to markets and help patients because you did not want to accept investor money from dubious origin.
Like with every dilemma, the situation does not offer a satisfactory solution. However, I am convinced that it helps to anticipate and openly discuss scenarios and positions to make sure that, within our sphere of influence, we are proactive when it comes to weighing value against values. Staying quiet should not be considered the better solution than taking a stance. Ultimately, losing our social licence to operate constitutes a material risk and we must be cognisant about this.
The column was part of issue "Circular Bioeconomy". Read the full e-Magazine on Circular Bioeconomy here.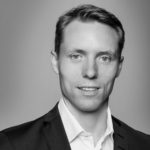 Dr Sascha Berger is a Partner at TVM Capital Life Science, one of the European pioneers of Venture Capital, with teams based in Europe and North America. Since he joined the firm in Munich in 2016, he has successfully helped to raise the current 480 million US dollar fund. He works closely with founders and entrepreneurs to advance promising pharmaceutical assets, medtech, diagnostic, and digital health technologies to the next value inflection points. Sascha is a passionate VC, a Boston Consulting Group alumnus, and has an academic background in chemistry and finance.