ITM Isotopen Technologien München AG
ITM Isotopen Technologien München AG is a privately held biotechnology and radiopharmaceutical group of companies dedicated to the development, production and global supply of targeted diagnostic and therapeutic radiopharmaceuticals and radionuclides for use in cancer treatment. ITM has established the GMP manufacturing and a robust global supply network for a new generation of targeted cancer diagnostics and therapies.

Furthermore, ITM is developing a proprietary portfolio
and growing pipeline of targeted treatments in various stages of clinical development. ITM's main objectives, together with its scientific, medical and industrial collaboration partners worldwide, are to significantly improve outcomes and quality of life for cancer patients while at the same time improving health economics through a new generation of Targeted Radionuclide Therapies in Precision Oncology.
---
ITM at a glance:
Field of Activity


Precision Medicine, Precision Oncology, Targeted Radionuclide Therapy / PRRT

Products/Services

1) Development of targeted radiopharmaceuticals for cancer treatment
2) Therapeutic & diagnostic radionuclides
3) Equipment for Radiolabeling & Quality Control: iQS-Theranostics Synthesizer, iQS® Ga-68 Fluidic Labeling ­Module, Consumables (Reagent Sets, Cassettes), Quality Control Solution (radio-HPLC)
4) GMP Radiolabeling Service

Our lead candidate Solucin® (n.c.a. 177Lu-Edotreotide) is currently under investigation in the phase III clinical trial COMPETE. COMPETE is an international pivotal multi-center phase III clinical trial evaluating the efficacy and safety of n.c.a. 177Lu-Edotreotide (Solucin®) compared to the standard therapy with Everolimus in patients with inoperable, progressive, somatostatin-receptor positive neuroendocrine tumors of gastroenteric or pancreatic origin (GEP-NET).

Unique Selling Point
We are developing and producing ready-to-use radiopharmaceuticals as well as medical radioisotopes, such as the highly pure no-carrier-added Lutetium-177. Known as EndolucinBeta®, it is used for on-site production of radiopharmaceuticals in clinics. Thanks to our global sales network, we supply our products to more than 250 sites and achieve patients worldwide.
Membership in networks/associations

BioM Biotech Cluster Development GmbH, BIO Deutschland e.V., ENETS European Neuroendocrine Tumor Society, INCA International Neuroendocrine Cancer Alliance, The Carcinoid Cancer Foundation, Inc. (Patient Organization)

Date of Incorporation/
Number of Employees

2004/180
Contact: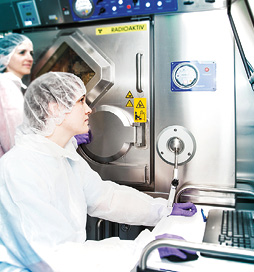 ARTIKEL ZU DIESEN SCHLAGWORTEN