Abivax
Abivax, a clinical stage biotechnology company, is mobilizing the body's natural immune machinery to treat patients with inflammatory diseases, viral infections, and cancer. Abivax leverages its immune enhancing and antiviral platforms to provide innovative and effective solutions in these therapeutic areas with significant unmet needs.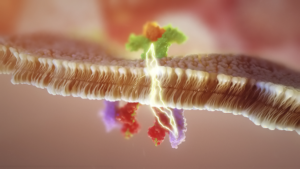 Based in Paris and Montpellier, Abivax has two drug candidates in clinical development:
ABX464 to treat ulcerative colitis, Crohn's disease, rheumatoid arthritis as well as Covid-19, and ABX196 for the treatment of hepatocellular carcinoma.
Lead molecule ABX464 is a highly differentiated oral drug candidate, with a novel mechanism of action based on the upregulation of a single microRNA (miR-124). In preclinical and clinical studies, the molecule has shown anti-inflammatory, antiviral as well as tissue repair properties.
---
Abivax at a glance::
Field of Activity
Abivax focuses on the clinical development of ABX464 in chronic inflammatory diseases, notably in inflammatory bowel diseases (IBD) such as ulcerative colitis and Crohn's disease.
Ownership Structure and Financing
Publicly listed on the Paris Stock Exchange since 2015, with Truffle Capital as majority shareholder
Selected Abivax Programs
Four clinical studies ongoing or planned with ABX464:

Phase 2b clinical trial in ulcerative colitis
Pivotal phase 2b/3 clinical trial in Crohn's disease in preparation
Phase 2a clinical trial in rheumatoid arthritis
Phase 2b/3 clinical trial in Covid-19

Further, a phase 1/2 clinical trial with ABX196 is ongoing for the treatment of hepatocellular carcinoma.

Unique Selling Point
ABX464 is a small molecule with the ability to selectively upregulate miR-124, a potent anti-inflammatory micro-RNA.

ABX464 has shown a good safety profile and impressive short-term as well as durable long-term efficacy in a phase 2a induction and one- and two-year maintenance study in patients with moderate-to-severe ulcerative colitis.

Along with the convenient once-daily oral dosing of ABX464, the unique mechanism of action might render this drug candidate attractive for combination therapies.

Date of Incorporation/
Number of Employees

2013/26
---
Contact: