The BIO International Convention is the world's largest biotech conference and exhibition. This year's event takes place from June 23-26 at the San Diego Convention Center in San Diego, California.
Biotechnology in California
California has nearly 2,500 biomedical companies and institutions, clustered throughout the states which have led to groundbreaking therapies and technologies to diagnose, treat and prevent conditions such as cancer, cardiovascular disease, diabetes, HIV/AIDS and others. Just as important, the sector is an increasingly significant component of the state's economic engine, employing nearly 270,000 people, paying $27 billion in wages and accounting for $21 billion in exports annually.
San Diego is home of top academic and research institutions which have in turn spun out close to 300 companies. Learn more about biotech in California.
Education and Special Events
The BIO educational program has been designed with business and professional development needs in mind. In each session, top thought leaders offer insights on issues essential to the industry and provide a wealth of information of strategic relevance to biotech business. Innovative changes to BIO 2014 include new session formats designed to foster increased audience engagement, more networking opportunities around session topics and Specialty Forums featuring new programming and an efficient 3-day schedule.
Education is organized by two categories: Specialty Forums, for attendees who are looking to take a dipper-dive into a particular subject area, and Session Tracks, for attendees interested in a "sampling" of cutting-edge topics. Education topics include digital health, personalized medicine, orphan diseases, regenerative medicine, business development, intellectual property, regulatory approval and much more. Each Specialty Forum will culminate with dedicated time for collaboration and networking amongst peers.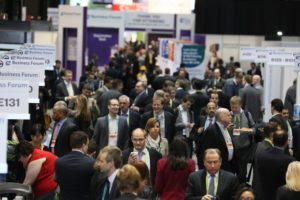 Super Sessions, big-picture talks given by the movers and shakers in the industry, will include the annual Scientific American Worldview session, Burrill's State-of-the-Industry Report, Ernst & Young's Beyond Borders Report and more.
Premier networking events are a key component of BIO. From Monday's Welcome Reception on the USS Midway to Wednesday's Gaslamp Receptions, BIO 2014 will offer unlimited opportunities to keep attendees informed, entertained and well-connected all week. Explore the full program at http://convention.bio.org/program.
Partnering at BIO
The BIO International Convention is the largest venue for private company-to-company meetings in the world. The BIO One-on-One Partnering System will open in early April. Learn more about partnering at BIO.
BIO Exhibition
The BIO Exhibition allows exhibitors to reach high-level executives and decision makers. The BIO Exhibition features more than 1,700 exhibitors and covers approximately 180,000 square feet. The exhibition also includes 60+ states, regional and country pavilions who in turn host many companies from their regions. http://convention.bio.org/exhibit
Die GoingPublic Redaktion informiert über alle Börsengänge, Being Public, Investor Relations, Tax & Legal, Themen und Trends rund um die Hauptversammlung sowie Technologie – Finanzierung – Investment in den Lebenswissenschaften.