The European Sustainable BIObased nanoMaterials Community (BIOMAC) was recently established in order to achieve global climate goals while reducing consumption and dependence on fossil resources. It's an open innovation test bed (OITB) for nano-enabled, biobased materials derived from renewable resources. Starting in December 2022, a sixth-month open call will give external parties the opportunity to apply to this OITB for their product development, free of charge. By Dr Annika Frank, IBB Netzwerk GmbH, Coordinator of the company's role as BIOMAC SEP
The BIOMAC project, structure, and consortium were designed and assembled as part of the Horizon 2020 call "Foundations for tomorrow's industry (H2020-NMBP-TO-IND-2018-2020)". BIOMAC is one of four highly innovative OITB projects to receive funding for the topic of "Open innovation test beds for nano-enabled bio-based materials". The aim of each project is to establish a collaborative network of partners from industry and academia, research, and business experts. As part of BIOMAC, 34 partners from 12 European countries are working together to take nanomaterials for diverse application areas from the laboratory stage (technology readiness level, TRL, 4-5) to functional prototypes (TRL 7). To this end, nanolignin, fibrillar nanocellulose, and crystalline nanocellulose are used in composite materials based on biopolymers such as polylactic acid (PLA), polyurethane (PU), and succinate-based polyesters.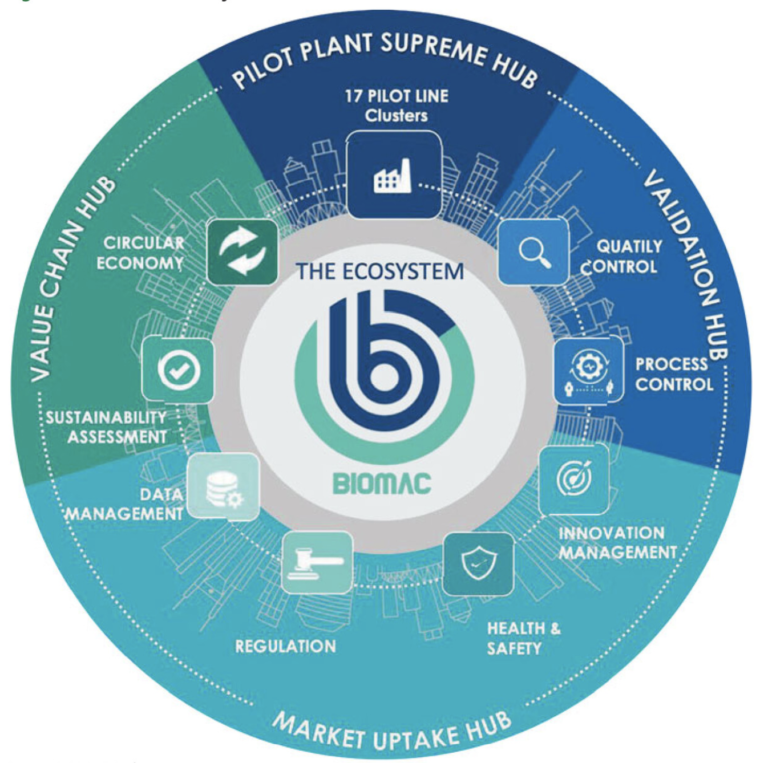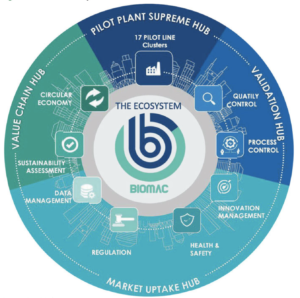 BIOMAC is an Innovation Action (IA) started in January 2021 that will run until December 2024. The project has received funding from the European Union's Horizon 2020 Research and Innovation Programme under Grant Agreement No. 952941. The EU is contributing EUR 14,807,314.50 to a total budget of EUR 16,596,702.50.
The ecosystem's structure
The BIOMAC OITB is composed of 17 pilot lines covering the value chain from feedstock to product. In addition, three transversal service hubs as well as an exploitation and dissemination management offer customer support in all aspects of characterization and validation, sustainability assessment and supply management, innovation management, health & safety as well as regulatory issues. A single-entry point (SEP), represented by the IBB Netzwerk GmbH, acts as a unique contact point for clients and has corresponding representative rights.
From the drawing board to practice
With an initial set of five internal test cases (interTECs) in the automotive, food packaging, agricultural, construction, and textile industries, the bio-based nanomaterials will be produced from biomass feedstock, tested, evaluated and assessed for market entry, life cycle, and sustainability. The interTECs will then serve to test and, if necessary, improve the OITB ecosystem's setup within the first half of the project's funding period before they are validated with a second set of test cases.

The Open Call – BIOMAC takes the leap
The BIOMAC project is taking its first steps into the market by way of an open call for applications which will be activated at the end of this year. This Europewide call is one of the project's most central activities and aims to validate and demonstrate the concepts and technologies developed as part of the project in new fields and applications. It will address established SMEs, start-ups, Research & Technology Developers, Midcaps, and others with the possibility to develop their bionanomaterial project within BIOMAC's unique open innovation test bed environment – free of charge. This allows the OITB to prove its value as a one-stop shop (OSS) where all technologies and services, from feedstock supply to commercialisation, are provided through a single organisational entity.
A self-sustained (and sustainable) future
After the four-year funding period, BIOMAC is designed to function as an independent, self-sustained and growing system under the coordination of the SEP. It has the potential to create jobs and economic growth, both within and for the associated partners and customers.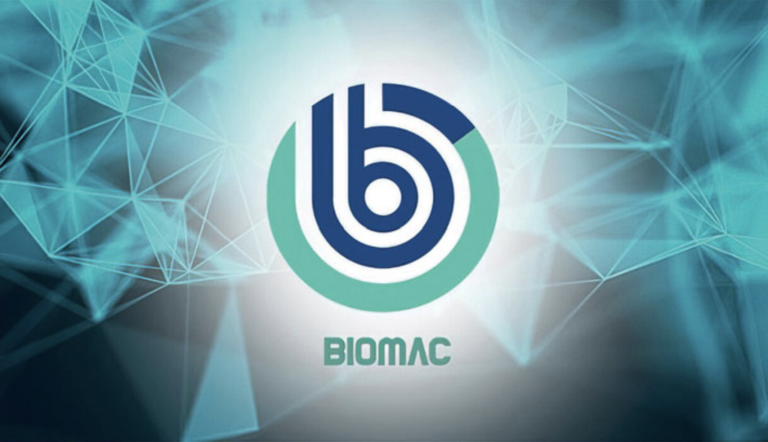 About Industrielle Biotechnologie Bayern Netzwerk GmbH (IBB Netzwerk GmbH):
The Industrielle Biotechnologie Bayern Netzwerk GmbH (IBB Netzwerk GmbH) is a network and service company in the field of industrial biotechnology and sustainable economy. The company's objective is to support market participants in the rapid and effective translation of promising scientific findings from these fields into innovative, marketable products and processes, and thus into efficient value creation. Within the BIOMAC project, the IBB will play a central role as the end-users point of contact for the duration of the funding period and in the planned, independent continuation of the test landscape after its completion.
Contact and further information on BIOMAC: www.biomac-oitb.eu
Read more about the circular bioeconomy in the e-magazine:
https://www.goingpublic.de/aktuelles-epaper-lifesciences/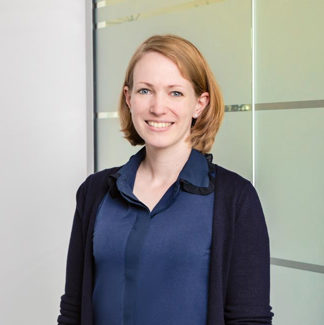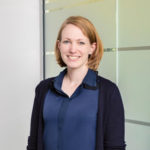 Dr Annika Frank obtained her PhD in Chemistry at the University of York. After working as a post-doc and project manager she joined IBB Netzwerk GmbH, where she coordinates the company's role as BIOMAC SEP.