Diese Veranstaltung hat bereits stattgefunden.
Global Cluster Partnering – Health
August 26, 2020

-

August 27, 2020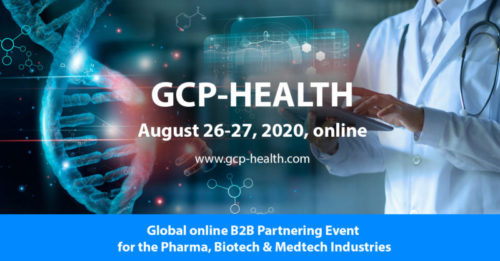 ONLINE PARTNERING FOR THE LIFE SCIENCES INDUSTRIES
August 26-27, 2020 – "The Kick-off"
International biopharma, medtech, diagnostics and labtech companies will be inspired by cutting edge medical and technological innovation from startups, SMEs and universities/research organizations. GCP-Healthcare will enable participants explore opportunities for cooperation and help them to find new ways to address our global healthcare challenges.
As partner of GCP-Healthcare, Plattform Life Sciences is offering a discount of 20% on the participation fee. In order to take advantage of this offer please use the following GOP7PZ2ZLEQ6UCKDFPB during registration.
Make business meetings cost and time-efficient
With online partnering, you can save money on travel, accommodations and on-site ticket fees and still be able to conduct important business meetings via a safe automatic scheduling and an SSL-secured video conferencing platform.
What you can expect from GCP – Healthcare:
Up to three meetings per hour during the period of August 26-27, 2020
36 hours of available meeting time includes automatic scheduling and live video conferencing
Keynotes – free participation in four impulse presentations from senior market experts
E-conferencing center for efficient follow-up
Meetings are all virtual. No travel and no accommodation required
More information about the event: www.gcp-health.com