Allergy Therapeutics
Allergy Therapeutics (AGY) is an international specialty pharmaceutical group focused on the treatment and diagnosis of allergic disorders including immunotherapy vaccines that have the potential to significantly improve quality of life. AGY has an established European commercial presence and is continuously growing through market penetration and product registrations. Germany is the strongest market accounting for 59% of group sales. In addition, AGY is focusing on the expansion into the US market where it plans for its grass vaccine to become the first officially approved subcutaneous immunotherapy (SCIT) product.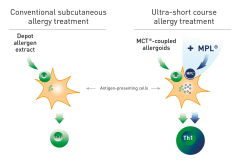 As a research-oriented company AGY is investing heavily in new technologies and markets to ensure long-term innovative drive.
Formed in 1999 out of Smith Kline Beecham, AGY is headquartered in Worthing, UK with more than 11,000m2 of state-of-the-art MHRA-approved manufacturing facilities and laboratories.
---
Overview:
Ownership structure and Financing
Listed on the London Stock Exchange (AIM:AGY) with revenues growing at a double-digit compound annual growth rate over the past 18 years.
Products
The Group sells its products in nine major European countries and via distribution agreements in an additional ten countries. Bencard Allergie's, AGY's German subsidiary, product portfolio includes:
– POLLINEX® Quattro
– TA Trees/Grasses/Weeds top
– TyroMILBE
– Tyrosine TU t.o.p.
– ORALVAC® Compact
– VENOMIL® Bee/Wasp
– the new Synbiotics product line with SynGut, Kallergen and PollagenAGY's broad pipeline of products in clinical development include vaccines for grass, tree and house dust mite, and a peanut allergy vaccine in pre-clinical development.
Unique Selling Point
AGY has the potential to transform allergy treatment with an established range of diagnostics, allergen specific aluminum-free immunotherapy vaccines as well as novel adjuvants designed to further improve the effi cacy and safety of specific immunotherapy (SIT). The Company has pioneered an ultra-short course allergy treatment concept with only a few annual injections given over a period of 3–5 consecutive years, which is unique as it contains the adjuvant MPL® and such was the first and only SIT-product with this immune booster available in the allergy market.
Date of Incorporations
2004
Number of Employees
535
---
Contact person:
Manuel Llobet
CEO
Contact:
Address:

Allergy Therapeutics
German subsidiary:
Bencard Allergie
Leopoldstraße 175
80804 Munich