There are very different views on whether there is enough money "available" in the start-up ecosystem at all and whether we only have bottlenecks in growth financing or also in early-stage financing. Be that as it may, there is definitely a lack of available venture capital for all ventures with long development cycles and scaling steps – and thus ultimately for all bioeconomy start-ups. How can this shortage be remedied? So what are alternative options for financing sustainable innovations? By Nikolaus Raupp, Investment Manager at High-Tech Gründerfonds (HTGF)

The reasons for the shortage of capital for bioeconomy start-ups are easy to explain: They require longer development cycles until their products are ready for the market, and the associated higher risks of failure along the way need to be adequately compensated financially. Their resulting higher capital requirements lead to greater dilution for all early-stage investors who do not have the opportunity to "play along" with substantial investment sums, especially in the growth phase. The number of experienced investors who can actively support the entire company and technology development is still very limited.
Alternative options
In the last years, a respectable number of new impact funds have raised substantial amounts of money and there are high expectations, that these new players can fill at least some of the gaps. So far, a lot of impact investors have been quite conservative with regard to any investments that include high amounts for hardware and physical scale-up facilities. Some have even openly admitted that they do not have the expertise to invest in new materials or processes and only focus on "digital solutions".
There are certainly a number of public grants and programmes to support high-tech start-ups at certain stages or in specific areas – but usually, financing the commercialisation of a breakthrough innovation that relies mainly on public grants is very difficult and takes too long.
Another alternative option for raising capital can be through a so-called strategic investor. A strategic investor can be any established corporate that is also a potential supplier, potential customer, distributor, or any other kind of strategic partner for the start-up. The corporate can either invest through a corporate venture capital fund (CVC) or directly without its own fund or even without a special investment team.
There are numerous studies on the impact, profitability, or governance of corporate venture capital investments, and many CVCs have very well-defined financial goals, so the difference between these more financially oriented CVCs and the typical classic venture capital fund can be rather small. Regardless, however, a start-up should evaluate an investor based on whether the investor has some strategic interest in the start-up or a purely financial interest.
Benefits or risk?
From the startup's point of view, a close relationship with an established corporate can be very advantageous: The potential strategic investor may have better market access or may already have established relationships along a value chain and may have a lot of experience with certain technologies and customer needs. With regard to the procurement of raw materials and services, the scaling of processes, and the engineering of production facilities, corporations have a lot to offer especially to young start-ups with a still limited number of experienced employees. Especially in the complex value chains of a circular economy start-up, a strategic corporate investor could shorten the time to market.
However, the involvement of a company as a strategic investor also entails certain risks that many start-ups might not be aware of: The corporate partner usually demands exclusivity for the technology or certain markets, making collaboration with other partners very complicated or even impossible. The start-up may have to adapt to corporate procedures, the slower pace of a larger organization, and certain inflexibilities. Further fundraising might become more difficult as other investors might suspect the strategic corporate investor of blocking potential exit options for its competitors, which would otherwise be a good way to increase the final sales value of the start-up.
Finding the right balance
Ultimately, the decision of whether or not to bring a strategic investor on board requires a lot of preparation and negotiation on both sides. Such a decision always depends on the specific relationship between the star-tup, the entire group of shareholders (all existing investors as well as all relevant strategic partners), and the respective group of people within the potential strategic investor and their role within the company. It is therefore particularly important to discuss all the key challenges, including direct competition with the corporate investor, cooperation with its direct competitors, terms for joint developments and or distribution agreements, intellectual property, exclusivity, and, of course, a possible "preferred takeover". The balance of power between the company and the start-up must be "stable": If one side becomes too dominant, the overall success could be in jeopardy. More than one strategic investor can be very difficult to manage, and two strategic investors could block each other.
However, if these aspects can be clarified and agreed upon, a strategic collaborative investor can be a great partner to help reduce risk, accelerate business development with its capabilities and finance the challenging commercialisation of sustainable innovations.

About High-Tech Gründerfonds
The seed investor High-Tech Gründerfonds (HTGF) finances tech start-ups with growth potential and has supported over 680 start-ups since 2005. With the launch of its fourth fund, HTGF now has over 1.3 billion euros under management. Fund investors in this public-private partnership include the German Federal Ministry for Economic Affairs and Climate Action, KfW Capital, and the Fraunhofer-Gesellschaft along with over 40 companies from a wide range of industries. To date, external investors (including strategic corporate investors) have injected more than 4 billion euros of capital into the HTGF portfolio via more than 1,900 follow-on financing rounds.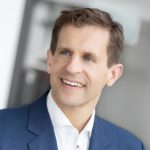 Dr Nikolaus Raupp studied economics and Japanese at the University of Bonn and Keio University in Tokyo. Before joining HTGF in April 2021 as an investment manager focusing on chemical start-ups, he worked as an expert for sustainability, renewable raw materials, and business development at BASF.