Diese Veranstaltung hat bereits stattgefunden.
EIHA Hemp Conference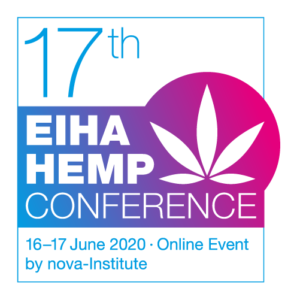 Specialists from all over the world will meet in order to exchange information regarding the latest developments in hemp applications for fibres, shives, seeds and oil as well as cannabinoids. Applications are biocomposites in automotive and construction, textiles, food, food supplements and pharmaceuticals.
17th EIHA Hemp Conference will take place as interactive online webcast.
Focus of the conference:
CBD as Food Supplement and Pharmaceutical
Hemp Seeds, Oil and Protein for Food and Feed
Fibres & Shives for Construction, Biocomposites, Insulation and Textiles
Latest Technologies, Market Figures and Business Transaction
Joint strategies