Conference on CO2-based Fuels and Chemicals
23-24 March 2022, hybrid event – Cologne (Germany)
The conference is one of the most established worldwide and has developed into a unique meeting and networking place for the entire Carbon Capture & Utilisation (CCU) and Power-to-X industry and its customers. The first day will focus on green hydrogen production, carbon capture and CO2-based transport and aviation fuels, the second especially on CO2-based bulk and fine chemicals. CCU technologies are essential to meet the future demand for carbon from renewable sources. Take a look into the near future and exchange ideas with the leading pioneers.
CCU is one essential pillar for the supply of renewable carbon besides biomass and recycling. The transition to direct CO2 utilisation as one alternative carbon source is needed to substitute fossil feedstock sources, to fight climate change and to shift towards sustainable and climate-friendly production and consumption. For providing the full benefits of CCU technologies the use of renewable energy is indispensable. Especially the supply of renewable energy and green hydrogen is crucial for the production of CO2-based transportation and aviation fuels, bulk and fine chemicals.
A large number of European cross-sectoral projects for hydrogen production via large-scale electrolysers have been announced recently. The European Commission launched a 400 Billion hydrogen strategy for the full energy transition to renewable energies, as well as for the further use of hydrogen in innovations and technologies such as the production of high-volume synthetic fuels and chemicals.
Meanwhile, more than 100 projects on CO2-based fuel and chemical production, as well as efficient capture and utilisation technologies have been launched by several start-ups and established companies, ranging from pilot plants over demonstration to commercial scale. Even more players show their interest in getting involved in CCU and are increasingly planning and implementing more plants on different scales for Power-to-X technologies, low carbon fuels and a CO2-based chemistry. Great visions are becoming real business cases and innovations are starting to realise their potential!
New and leading players will showcase novel and improved applications based on the use of CO2 as feedstock. Main topics of the conference are green hydrogen production, carbon capture technologies and carbon utilisation (Power-to-X): Transportation and aviation fuels, building-blocks, bulk and fine chemicals as well as advanced technologies for CO2 utilisation such as artificial photosynthesis.
---
Green Hydrogen Production, Carbon Capture Technologies, Direct Air Capture, Carbon Utilisation (Power-to-X): Transportation and Aviation Fuels, Building Blocks, Bulk and Fine Chemicals and Advanced Technologies for CO2 Utilisation such as Artificial Photosynthesis.
Meet the frontrunners in Carbon Capture & Utilisation (CCU) at one of the premier and most prominent conferences on CO2 as renewable carbon feedstock for fuels and chemicals in the world ++ More than 200 leading international experts in CO2 capture and utilisation and 20 exhibitors are expected to attend the conference
---
Strategy & Policy
Green Hydrogen Production
Carbon Capture Technologies
Carbon Utilisation (Power-to-X): Fuels for Transport and Aviation, Building Blocks, Bulk and Fine Chemicals, Advanced Technologies / Artificial Photosynthesis
---
---
---
Media and Conference Partners
Sponsoring
Would you like to increase your visibility in public? You are very welcome as a sponsor of the conference! All sponsoring opportunities are available soon.
---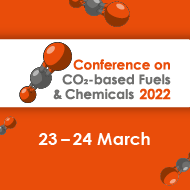 nova-Institute is a private and independent research institute, founded in 1994; nova offers research and consultancy with a focus on the transition of the chemical and material industry to renewable carbon: How to substitute fossil carbon with biomass, direct CO2 utilisation and recycling. We offer our unique understanding to support the transition of your business into a climate-neutral future. nova-Institute has more than 40 employees. Get the latest news from nova-Institute, subscribe here.