Diese Veranstaltung hat bereits stattgefunden.
BioEntrepreneurship Summit 2021 – digitally delivered
Oktober 19, 2021 @ 8:00

-

Oktober 21, 2021 @ 17:00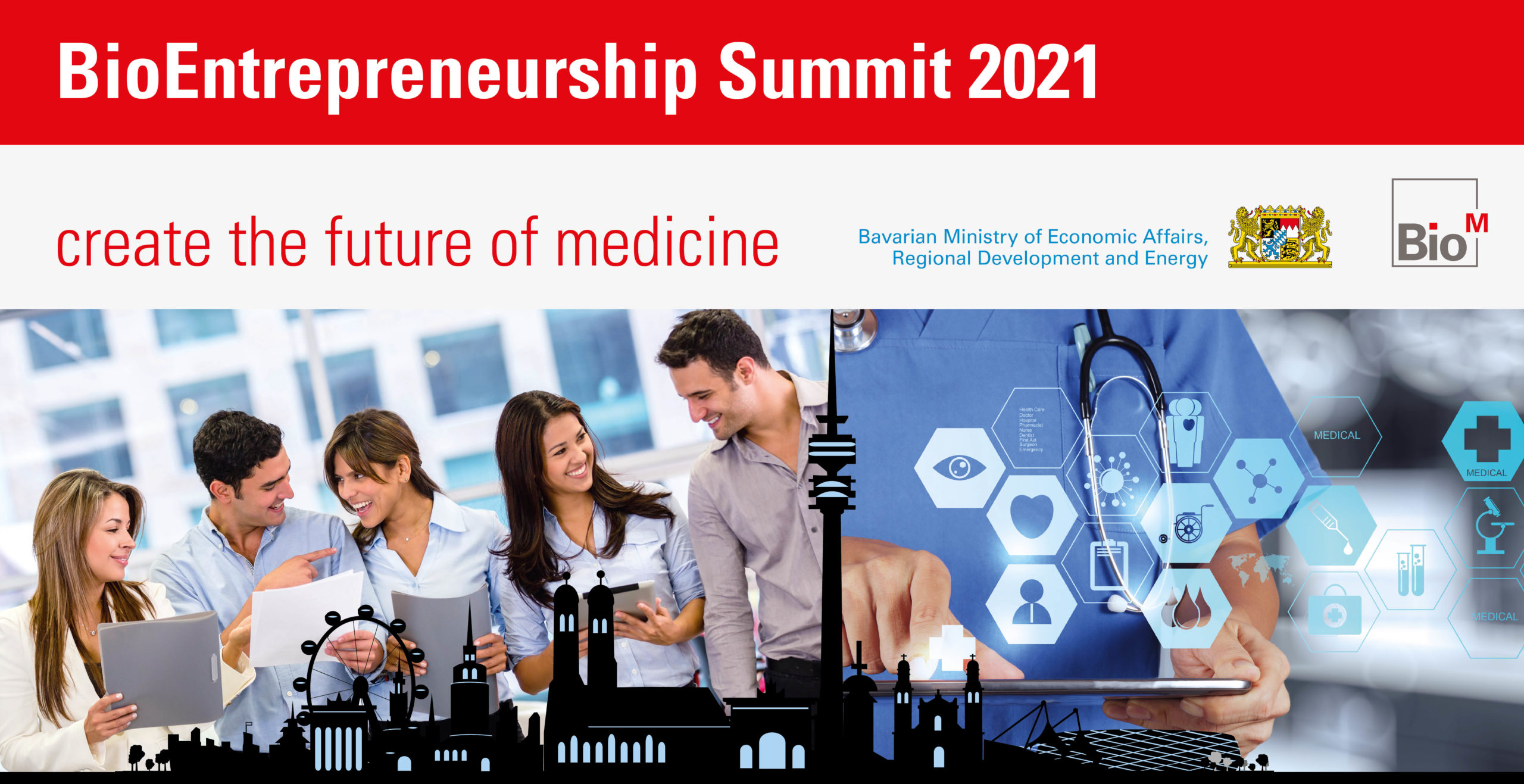 Bildnachweis: BioM Cluster Development.
Create the future of medicine
At the BioEntrepreneurship Summit 2021 on October 19-21, we bring together founders, startup enthusiasts, experienced entrepreneurs, corporates and investors to foster the exchange of knowledge, to inspire and to empower, and to celebrate life science entrepreneurship. In 2021, the event will be organized in a fully virtual format.
Highlights 2021
Be part of the bioentrepreneurial ecosystem
Learn from peers, experienced entrepreneurs and industry leaders
Meet exciting pre-seed and start-up showcases
Get to know investors and their investment focus
Be inspired by key notes and captivating panel discussions
Arrange 1:1 meetings and make new contacts while speed dating
Participate in workshops, campfires and other interactive formats
Get to know key trends shaping the industry and the future of medicine
Enjoy the m4 award ceremony
Get informed if the mega trend of green transition is relevant for life science start-ups
Selected Speakers 2021
Nabiha Saklayen, CEO & co-founder of Cellino, Pioneer in MIT Tech Review's 35 Innovators under 35 list and 2019 Forbes 30 under 30 List for Healthcare
Kenneth R. Chien, Distinguished Professor of Swedish Research Council, Karolinska Institutet in Stockholm and co-founder of Moderna Therapeutics
Roel Bulthuis, Managing Partner and head of the Healthcare investment team at INKEF with more than 15 years of experience across venture capital, pharma business development and investment banking
Regina Hodits, Managing Partner at Wellington Partners Life Sciences and in the VC industry since over 20 years
Jason Mellad, CEO and co-founder of Start Codon, a Cambridge based accelerator
Valerie Alexander, renowned expert on happiness and inclusion and a globally recognized speaker on the topics of happiness in the workplace, unconscious bias and the advancement of women
Onno Faber, serial entrepreneur, patient and founder of Rarebase
…and many more…
Get more information and register at: www.bioentrepreneurshipsummit.org