Bildnachweis: lovelyday12 – stock.adobe.com.
Traditional multibillion-dollar corporations have dominated the modern economy due to their market access, structured processes and well-known, trusted products. Uncertainty is being caused by the emergence of new trends, technologies, and market opportunities. In this environment, start-ups thrive. They are quick, problem-oriented, and fearless. But they lack experience and economy of scale. Though collaborations between corporations and start-ups would seem to be a perfect match, this it is not as simple as it sounds. They need help.
Collaboration between corporations and start-ups is not easy. These two types of organisations have very different agendas and methods of operation. True: collaboration occurs, though by the time the parties have reached an agreement, the start-up might have might have scaled too far or closed. The time and effort involved work to their disadvantage as they seek to establish a connection; very often, a common ground for communication is missing. If the parties lack an intermediary that actively reduces the effort required for them to meet, to find the right position for interaction and to find a clear way to direct their energy, it simply takes time.
These catalysts call themselves things like open innovation hubs, incubators, accelerators and innovation platforms. They all cater to the needs of start-ups and corporations; they understand them, interact with them on a regular basis, and assist them whenever possible. But their innovation strategies also help corporations by injecting new life into departments that have been doing the same thing for far too long. They bridge the gap between the industrial environment and the disruptive impulses of the start-up world.
Learning by doing
These catalysing innovation hubs can have a specific thematic focus, or they can be suitable for a start-up in a specific growth stage, or a combination of both. For start-ups, there is no one-size-fits-all. Generally, young start-ups are provided with assistance and training to help them reach investor-readiness and the market viability of their products as quickly as possible. More mature start-ups with newly-marketed products benefit from accelerated market access and scalability. Established start-ups are matched with specific products and challenges that industrial partners face.
The most valuable innovation hubs are those that offer the opportunity to run concrete pilot projects. In this case, the accelerator serves as a neutral intermediary. It lays out a clear structure for conceptualising projects and managing them through milestones and quality gates. The milestone process helps all parties reduce risk. Decisions are made quickly, and the budget is set up from the start. Important topics such as joint inventions, which cannot be planned from the start, are closely monitored and addressed as they arise throughout the project.
A negative outcome can have a positive effect
It's a common belief that exploratory projects are impossible, especially in the zero-error culture prevalent in many German corporations. But are "mistakes" really part of these exploratory projects? In reality, there are no "mistakes". The true goal of these projects is to collect data to help with decision-making: to determine the commercial viability of a trend, a new technology, or an innovative application.
Decisions are based on facts and information. Collaborative projects teach both start-ups and corporations a lesson: if information could be gathered by the end of a project that enable the decision whether or not the topic should be continued, then that's wonderful! If this information was collected at an earlier milestone and with few resources, even better! Start-ups learn how to apply technology, achieve product-market fit and deal with the complexity of an industrial environment. Corporations learn to think differently, to look at known problems in new ways and to decide whether these new applications are worth pursuing or abandoning. The most important KPI for these innovation hubs should be the number of decisions taken, not the number of successful/unsuccessful projects.
There are many paths to a rich harvest
Profit from shareholdings is one way for the industry to participate in the increasing value of start-ups. This means that the corporation becomes a direct share­holder in the start-up and invests money to receive dividends/profits later. A few of the best-organised players with the longest strategic horizons, such as Boehringer, BASF and Evonik, have established successful corporate venture funds. Besides investing as purely financial venture capital investors do, they provide industrial experience and market reach.
Innovation hubs have various business models: some take equity from start-ups, some offer grants, some offer only training but no financial support. The most common model is for the accelerator to invest in the start-up. However, the goal should be to support suitable start-ups independently from their cap table. The perfect combination is when interaction within an educational acceleration programme is paired with the possibility of a joint project: the acceleration phase can be considered due diligence. After the project is completed, the start-up and the corporation decide whether to continue working together. Options include a joint development or licence agreement, a customer-supplier relationship, the expan­sion of as existing product portfolio, or even an investment.
Wake-up call: times are changing
Sustainability is no longer a fringe concept, but is rather an issue that is widely acknowledged by society. It is finally regarded as an imperative that will gradually lead to a reduction in emissions and the establishment of new corporate goals. Climate change will accelerate innovation to the point where only companies that can adapt quickly will survive. The ability to relearn and change is the order of the day. To keep up with the speed of innovation, businesses of all sizes, large and small, require innovation hubs to help facilitate matches between start-ups and industry partners. This is the most efficient way of knowledge-sharing in our fast-paced and changing world. The dialogue between internal and external innovation is crucial if organisations are to remain competitive. Exchange must take place between different sectors, different players, within organisations, and between peers in different companies.
The key to driving innovation is to combine corporate power, start-up agility and open innovation platforms. Taken all together, they facilitate exchange.
ABOUT THE AUTHOR
Dr Philipp Rittershaus has gained experience as a life science investor at High-Tech Gründerfonds and has a strong background in industrial biotechnology (including a PhD and an MBA). He is now the Managing Director of RootCamp, an innovation hub for international start-ups in the agri-food tech industry.
Dieser Beitrag erschien ursprünglich in der Ausgabe "Circular Bioeconomy".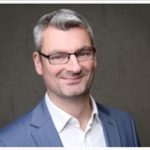 Holger Garbs ist seit 2008 als Redakteur für die GoingPublic Media AG tätig. Er schreibt für die Plattform Life Sciences und die Unternehmeredition.