SSS International Clinical Research
SSS International Clinical Research is a specialist for clinical studies for medicines and medical devices in Europe with almost 28 years of market presence. Until today the CRO (Clinical Research Organization) has operated clinical trials in 22 countries on three continents.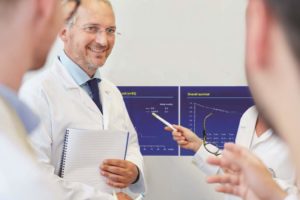 As operations specialist, SSS has developed accSIS, a proprietary Clinical Trial Management Software (CTMS), which enables the company to organize multinational trials with a maximum project oversight and control. Another key success factor is the team of senior specialists with deep insights into clinical operations and a high dedication to the projects of the customers. The results speak for themselves: SSS receives more than 90% of its business from existing customers. In addition, more than 95% of the study sites SSS is working with rate their services as good or very good.
---
SSS at a glance:
Field of Activity
SSS is a full-service CRO covering all aspects of clinical operations in Phase I to IV and non-interventional studies.
Ownership Structure and Financing
SSS International Clinical Research is a privately-owned company with its head office in Munich and two affiliate companies located in Romania and Poland.
Partners
With its partners, SSS covers whole Europe, USA and Asia. Moreover, the CRO has a network of medical and regulatory specialists.
Technology
The CTMS accSIS allows all team members in and outside the company to work with the same IT solution.
The results: avoidance of data silos and data loss as well as full control and oversight over all relevant aspects of the project.
Products/Services
SSS' clients are 'big pharma', biotech, diagnostics and medtech companies. SSS consults throughout the complete project including the very first conception, the clinical conduct and the preparation of the clinical study report.
Unique Selling Point
SSS offers a unique combination: As a mid-sized CRO SSS is highly flexible and dedicated but at the same time has the experience, network, and IT systems to perform global trials.
Membership in networks/associations
Member of BVMA
Member of BIO Deutschland
Associated member of EUCROF
Date of Incorporation/Number of Employees
1993/55
Other
We are constantly expanding our team. Check for available positions: www.cro-sss.de/career/
---
Contact: