CEVEC Pharmaceuticals GmbH
CEVEC is a biotechnology company specialized in cell line and process development for the scalable production of high-end biologics, including gene therapy vectors and complex glycosylated recombinant proteins, from R&D to production scale.
With CAP-Go, CEVEC enables theefficient production of complex recombinant proteins, like FVIII, C1-Inhibitor, laminins, A1AT and others, with high titers and excellent pharmacokinetics mediated by tailor-made glycosylation.
With CAP-GT, CEVEC has developed a scalable platform for gene therapy vector manufacturing based on suspension cell lines. For AAV (Adeno-Associated Viral) vectors CEVEC offers a unique fully scalable, stable helper virus-free production system.
---
CEVEC Pharmaceuticals at a glance:
Field of Activity

Development, services and licensing of human cell-based production platforms for biopharmaceuticals.
Ownership Structure and Financing
Privately owned. Investors include Peppermint Venture Partners, Creathor Venture, NRW.Bank, KfW Bank, G.A.T. Holding, and others.
Partners
Selected license partners: Beckmann Research Institute/City of Hope, Biotest, CSL Limited, medac, Provecs Medical, BioLamina, CellGenix; CDMO partners: Paragon Bioservices Inc., GenIbet Biopharmaceuticals
Technology and Unique Selling Point
CEVEC's CAP®-platforms for complex proteins and viral vectors used as therapeutics and in gene therapy applications are based on its proprietary CAP®-Technology, a unique expression system using human suspension cells.
• Fully scalable and cost-efficient
• GMP compatible process development from R&D to production scale
• Authentic tailor-made glycosylation (CAP-Go)
• Outstanding pharmacokinetic profi les and high yields of recombinant proteins
• Helper virus-free producer cell line for AAV vectors
Products / Services
Cell line and process development and technology licensing for the manufacturing of tailor-made recombinant glycoproteins and gene therapy vectors from R&D to production scale.
Membership in networks / associations
Bio Deutschland, Alliance for Regenerative Medicine (ARM), Dechema, BioRiver, Bio Cologne
Date of Incorporation 
2003
---
Contact:
---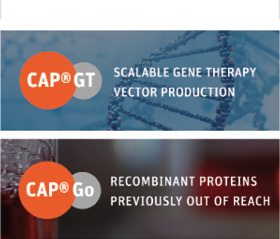 Business segment:
The expert in scalable, cost-effi cient
production of complex glycosylated
proteins and viral vectors.