AiCuris Anti-infective Cures GmbH
AiCuris is a pharmaceutical company focused on discovery, research and development of novel, resistance-breaking antiviral and antibacterial agents for the treatment of severe and potentially lifethreatening infectious diseases. Since November 2017, the first product from AiCuris is on the market. Letermovir, designed to inhibit the viral terminase of the human cytomega-lovirus (CMV) and licensed to MSD and achieved market approval in the US, Europe and Japan for the prophylaxis of CMV infections in recipients of bone marrow transplants.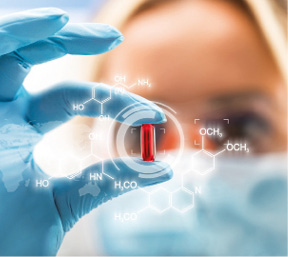 Further clinical programs include Pritelivir, a helicase-primase inhibitor, developed to treat recurrent labial herpes and genital herpes infections, AIC499, a resistancebreaking Gram(-) antibiotic and AIC649, an immune modulator targeted at Hepatitis B cure.
---
AiCuris at a glance:
Field of Activity
Anti-infectives including antivirals (HCMV, HSV, Hepatitis B virus, Adenovirus) and antibacterials (hospital infections caused by multiresistant Gram-(-) and Gram-(+) bacteria).
Ownership Structure and Financing
Private investors, led by the family office of the Dres. Strüngmann, former owners of Hexal.
Partners
Merck & Co. (MSD): Licensee of AiCuris' HCMV drug Letermovir, MPI Institute of Molecular Physiology, Institut Català d'Investigació Quimica, Mercachem, Cyclenium, Lysando AG Innovative Medicines Initiative (IMI) AiCuris intends to move its projects to clinical proof-of-concept before licensing/partnering. AiCuris pursues an active in-licensing strategy for pre-clinical and early clinical projects.
Products / Services
AiCuris' Clinical Programs:
Letermovir, (licensed to MSD), HCMV, Marketed (HSCT), Ph 3 (SOT)
Pritelivir, HSV resistant, Phase 2 /HSV vaginal ring, Preclinical
AIC649, Hepatitis B Virus, Phase 1
Artilysins, against bacteria, Preclinical Research
Unique Selling Point
AiCuris' innovative antibiotic and antiviral drugs act via new modes of action and are directed against new targets and/or represent novel chemical classes. Based on this, AiCuris' therapeutics are resistance-breaking by design.
Membership in networks / associations
BIO Deutschland, BioRiver, European Biopharmaceutical Enterprises (EBE), BEAM-Alliance, Pharma Lizenz Club (plc) Deutschland
Date of Incorporation/
Number of Employees
2006/65
---
Contact :