Last November, Edmond de Rothschild Investment Partners has closed its BioDiscovery 4 venture capital fund for European life science companies after raising EUR 192 million. GoingPublic talked to Olivier Litzka, Partner of Edmond de Rothschild Investment Partners and member of the Life Science Team, about eligibility criteria and the investors' trust in life science investments.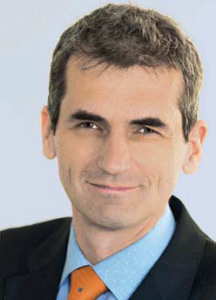 GoingPublic: Mr. Litzka, which relevance does the personalised medicine have in the BioDiscovery 4 fund?
Litzka: Personalised medicine is indeed one important trend in the life sciences industry and we follow with interest the progress made in this particular area. Since the closing of the fund last year (EUR 192 million raised), BioDiscovery 4 has invested in four innovative companies: Allecra – anti-infectives against multidrug-resistant bacteria –, Complix – scaffold proteins that bind to intracellular oncology targets –, Oncoethix – small molecules for the treatment of hematological cancers – and Jena-Valve – transcatheter aortic valve implantation. None of them can be considered personalised medicine per se, but yet it is true that all these companies address high
unmet medical needs among specific subgroups of patients and this translates into more tailored treatments.
GoingPublic: Which expectations does Edmond De Rothschild have on the personalised medicine in general? What will be the key success factors for the industry?
Litzka: From an investment perspective, personalised medicine will succeed if it is able to establish a good balance between the personalization of the treatments and the targeting of relatively big markets. Companion diagnostics in oncology therapies are a clear example of that. With regard to cell therapy and gene therapy, late clinical proof of concept and successful commercial stories will be needed for more VC funds to jump into the field. That being said, as investors we shouldn't lose our focus to back companies fighting big diseases that affect millions of patients with no cure or bad solutions today.
GoingPublic: What does a personalised medicine company has to be like, so that Edmond de Rothschild invests in it?
Litzka: It first has to be thought as a part of a portfolio strategy, and it needs to fit into it. Secondly, it has to overcome the challenges in personalised medicine already mentioned. Finally, like all other companies we invest in, a personalised medicine company needs to
show a clear value proposition through the resolution of an unmet medical need, a reliable development plan, a feasible exit strategy and an experienced team.
GoingPublic: From which experiences with the first three Biodiscovery funds do you profit the most for the new one?
Litzka: Since BioDiscovery 1 was launched in 2000, many stories have contributed to our better understanding of the life sciences industry. The recent successful trade sales of Vessix Vascular and Endosense in BioDiscovery 3 have allowed us to foresee the level of clinical evidence a medical device company has to provide in order to be acquired by a big medtech player. The exits of biotech companies like Novexel, Novagali, Pangenetics and U3 Pharma have enabled us to obtain a unique experience about the necessary milestones to be achieved before a transaction takes place. We have also profited from the IPOs of Regado Biosciences, Implanet, EOS Imaging and MDx Health. In the field of oncology and immunology, over time we have created a highly qualified network of experts who help us evaluate our deal flow opportunities.
GoingPublic: During the fundraising, which feeling did you get about the investors' trust in life science investments?
Litzka: The life sciences industry provides above-market returns and allows for the diversification of portfolios. On the other hand, the reopening of public markets offer now an attractive alternative of exit to conventional trade sales, and this is something limited partners value. The strong support of our existing investors and several new relationships allowed us to raise BioDiscovery 4 in a little more than a year. We see this as a clear recognition of our investment strategy and recognition of our life science team as venture investors.
GoingPublic: Mr. Litzka, thank you very much indeed.
Die GoingPublic Redaktion informiert über alle Börsengänge, Being Public, Investor Relations, Tax & Legal, Themen und Trends rund um die Hauptversammlung sowie Technologie – Finanzierung – Investment in den Lebenswissenschaften.